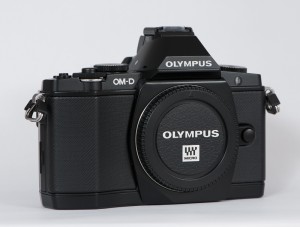 Six month before I got my Olympus OM-D – 28 weeks later it's time to do a short summary about the Pro's and Con's to answer the question if it is worth the money.
I've to admit that I haven't been a big fan of the 'Micro Four Thirds' system in the past. The crop sensor and the missing viewfinder on most 'm4/3s' made me see it as a simple 'point and shoot' camera standard. I'm using Nikon cameras over fifteen years now and I've always been happy with them – whether on crop format like my D90, on full frame with the D700 or on film with my old FM2.
Then Olympus introduced the OM-D and I got interested by an article in a photo-magazine. Their test showed that the quality of the camera sensor was on par with the Nikon D90's and a built-in viewfinder was integrated into a retro-styled and very compact camera body. Call me 'gear-head' – but a week later I was out shooting with my new Olympus OM-D and the marvelous m.Zuiko 45mm f1.8. But don't think it was love at the first sight – it took us time to accept each others little flaws to get to the solid relationship we finally achieved ;)
Viewfinder
As I took the first look through the OM-D's viewfinder at the camera-store, I got the feeling to get winded up! Maybe this is one of the best electronic viewfinders you can buy today but it's really poor what you see in comparison to the look through a Nikon D700's and also a Nikon D90's optical viewfinder. Full-stop.
But I have to admit that it comes close to my wife's Nikon D3100 and I learned in the past that this camera works fine after getting used to it. So I gave it a chance.
Even 28 weeks later the viewfinders quality doesn't make me happy, but it gives me something I didn't realize at first – it gives me a very special kind of 'you see what you get'. If you disable 'Menu > D > Live View Boost' you really see what you get!
You get a view of the expected result with aperture, time and light correction (S,A,P,M-Mode) applied – something an optical viewfinder isn't able to deliver. And for fully manual mode (M-Mode) this gets especially convenient, because you can 'see what you get' by changing aperture and time immediately. I'm using this feature a lot.
Image stabilizer
As I got my OM-D it was loaded with an old software-version which enabled the image stabilization all the time. This caused a boring sound – like a notebook fan – that drove me crazy. After some googling about this problem it turned out, that there is a software-upgrade available which solved that problem. Now the stabilization get's enabled as recently as the shutter-button gets pressed. The noise is still here but you get used to it quickly and after some time you won't notice it.
On the other hand – the image stabilization works really great! I don't miss a shot due to camera-shake anymore. Combined with one of the fast Olympus prime lenses it gives me a perfect available-light package.
Camera body quality
The look and feel of the camera body was perfect to me from the beginning. My hands are medium-sized and the camera fit's in my hands perfectly. And this first impression is true also 28 weeks later. I really enjoy handling my OM-D – it just feels right every time I reach for it.
Button fiddling
All major dials are made of metal and slick to handle. This is also true for the shutter-button and most of the other buttons.
However, where there is light, there is also shadow: The review-button, the function1-button and the navigation-buttons on the back of the camera are in my opinion to small and are missing a perceptible pressure point. I really hate using them!
Settings-menu complexity
A lot of people on the net have complaints about the settings-menu complexity. Sure – it takes some time to find a special setting, but you can always be sure that it is there – somewhere. The OM-D gives you nearly every possibility to configure it exactly to your needs, but as always, 'there is no free lunch', so you have to invest some time to figure out how it all works for you.
Olympus OM-D's Software Package
The software package provided by Olympus with your OM-D is useless caused by one major issue: The software isn't able to store the changes you do on a picture in RAW-format. Really – I'm not joking! It took me two hours looking around on the web to believe it. All you can do is to export the resulting picture as JPEG or some other graphic formats. But if you close the picture and open the RAW-image again, your changes are gone :| Olympus – you can do this better!
So I had to buy Adobe Light Room and after some initial learning effort I'm happy with the program. The OM-D RAW-format is handled well by light-room and I'm pleased by the results it gives me. Yes – and by the way – my changes on the RAW-image are persisted flawless – Shame on you Olympus!
Everyday handling
For me on of the most important reasons to buy an OM-D was to get a mobile professional camera which goes with me nearly everywhere. To carry around the camera with one or two lenses is painless due to the compact format and the small weight. I've opted for the black version of the OM-D, so I'm able to operate in 'stealth mode' which comes in very handy to get candid shots on the street. To get to the point – everyday handling of the OM-D is flawless. The cam is robust, handy and get's nearly never in your way.
Optics
Last some word to the Olympus optics. Let me start with the one and only negative point: For nearly any of the Olympus prime lenses no lens hood and no lens pouch is included in your purchase. They charge you another up to 80 bucks for this option. Can't believe it? Me too but that's how it goes – shame on you, Olympus!
But to be honest, I'm very exited about the quality of the Olympus primes and also about some selected Panasonic lenses. This is why people will buy into the m4/3 system!
Here's my OM-D owners lens wishlist sorted by focal length:
Olympus M.Zuiko Digital ED 12 mm 1:2.0
Panasonic H-H020E Pancake-Objektiv Lumix G F1,7/ 20 mm
Panasonic Leica DG SUMMILUX 25 mm f/1.4 ASPH
Olympus M.Zuiko Digital 45 mm 1:1.8
Olympus M.Zuiko Digital ED 60mm 1: 2.8 Macro
Olympus M.Zuiko Digital ED 75 mm 1:1:8
Most of the above lenses will get a 'pragmatic review' here over the next weeks – so stay tuned!
Verdict
I made heavy use of my OM-D over the last six months and it never let me down along the way. It's not the ideal cam for everyone but for me it's almost perfect. I haven't used my Nikon D90 since I got my Olympus OM-D and I use my Nikon D700 just for special macro work. The compactness and the quality of the delivered results won me over and I think I'll still spend more time with my OM-D >:o)